Since I am a new blogger I don't have a ton to show off...but the few projects I have got in I am really happy with. Here is a sampling....
2011 looks to be a busy year of DIY projects...I took the time to jot down a quick list of the things I would love to accomplish. Depending on funds and time we will see what we get done. I assume most bloggers create a plan for the year so I will attempt that soon...before the 5th of Jan...now I have a deadline so I have to do it.
The list! This is really a list of hopes and dreams...items in bold will hopefully happen in 2011, others...just a dream or a vision. Time will tell how much happens. I have included some "before pictures", a lot of them are from our original walk through and things have changed quite a bit...I'll get better pictures soon...just need to remove the Christmas stuff first I think! Please forgive the bad photos...I never remember to get good lighting photos of my house...I need to do that.
A note to my darling husband...don't pull your hair out...this is a "Idea List" we will do a little bit at a time! ;o) love you!
We have already removed the scalloped borders and plants here, now we need to add pretty stuff.
Paint house, come up with a color scheme that works with neighborhood but makes our house shine
Install lights on front of garage
Power wash driveway and walkway
Paint shutters to match door and porch railing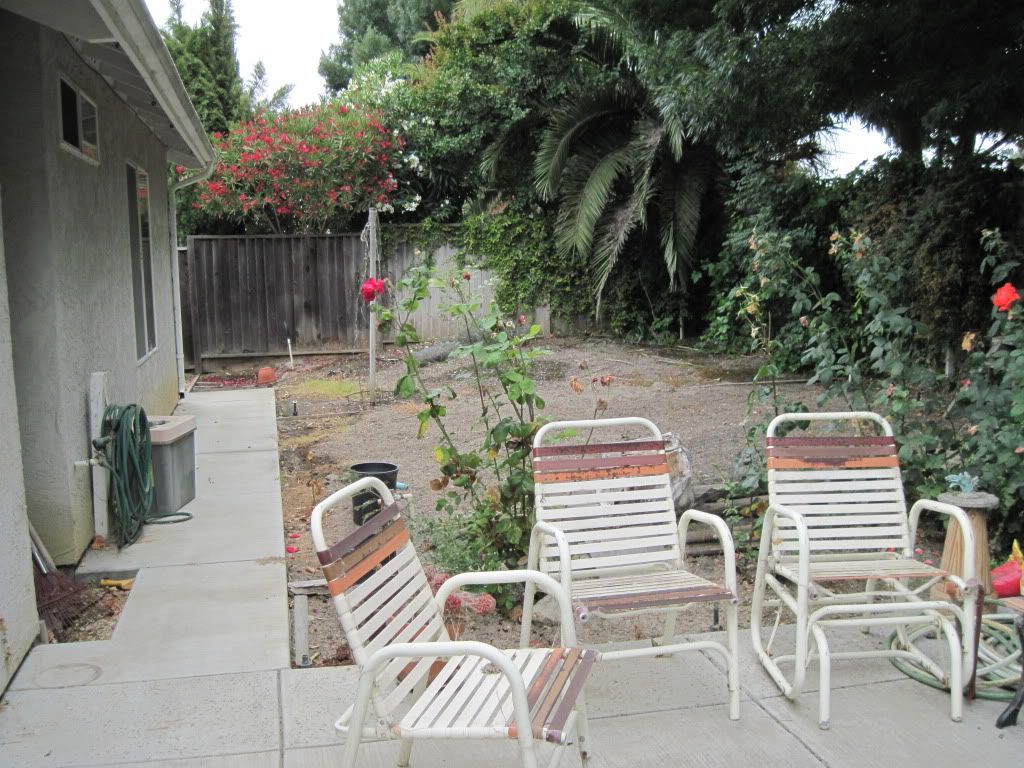 Ivy, trees and old chairs are gone. Now if only that dirt would rota-till itself!
Fix fences (no more dogs in our yard please)
Fix Sprinklers in front, install sprinklers in back
Lawn, get rid of burial plot in the front lawn, seed for new lawn in the back
Flowerbeds, define and plant preliminary plants
Tear out old walkway and install new pretty one to sidewalk and to driveway...think organic curves...no right angles.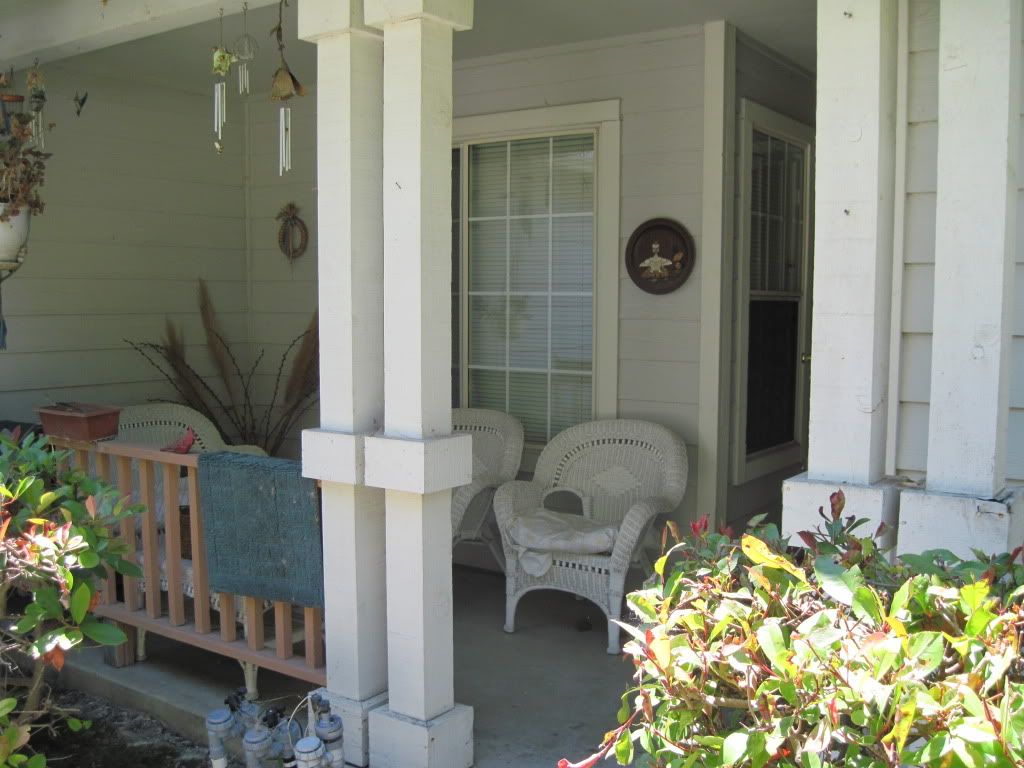 I have refinished that wicker...its red! The porch railing is peacock blue to match our door.
Stain floor to something "pretty"
Install beadboard ceiling
Install fancy outside light
The entire house could used new flooring...but that is a big huge project for years from now...bummer
Get/create artwork for wall of sofa
Find perfect but cheap area rug for kids to thrash
Paint
Hang awesome curtains waiting to be hung
Organize Closet and do something to make doors look nice and less cheap. (more on this later)
Refinish desk and get or make a file cabinet
Can you tell that James doesn't clean his own room yet?
Paint
New Closet Organizer, fancy up the doors
Area rug
Toy organizer
This is Megan's version of clean...impressive I know.
Paint
New Closet Organizer, fancy up the doors
New light fixture
Better toy and book storage
Big girl bedding
Master Bedroom and Bath (needs to be a escape for Mom and Dad)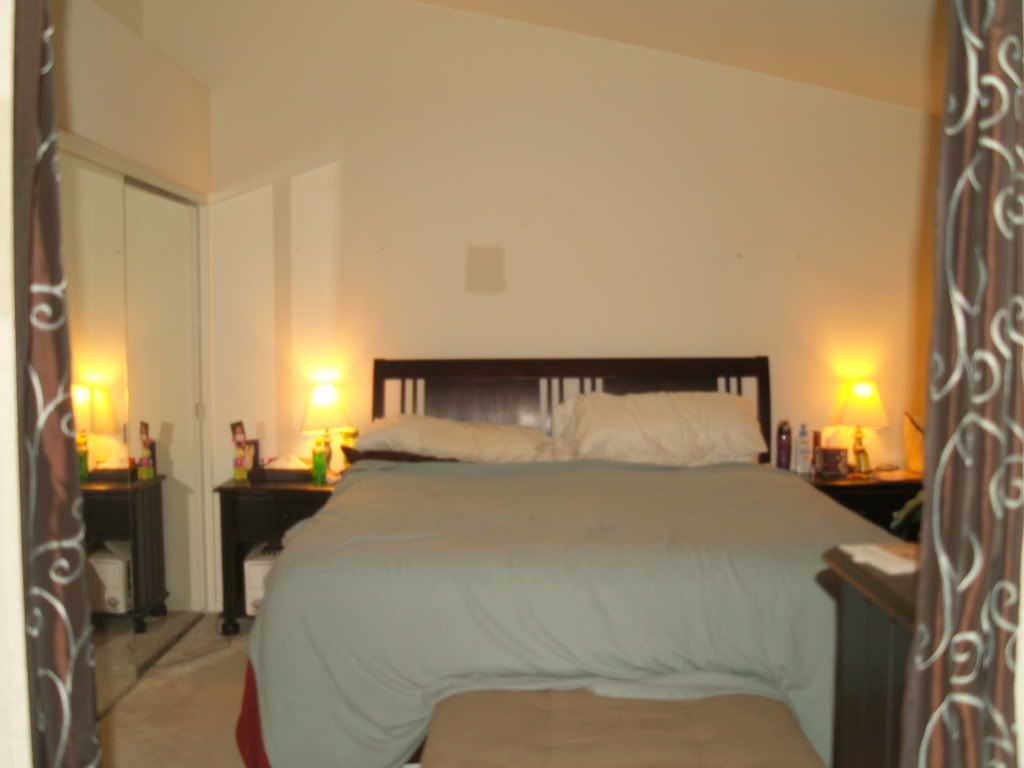 Like my paint swatch...not the right color...but obviously I have given up on it for now. Nice bedding too!
Paint
New bedding and window coverings
Refinished dresser that fits in the room
Accessorize...we don't have any :o(
Refinish vanity cabinets
New toilet
Paint
Better Organization
Refinish vanity
New toilet
So this is a to be continued list for sure. I need to put together some inspiration boards so I have something to refer to in the years of work we have ahead of us. I am excited about all the possibilities. As always thoughts and suggestions are welcome...in fact I look forward to them!

Shared here...