I made yummy cookies...check them out!

They are chewy and spicy gingerbread that are actually super easy to make. I have eaten more than I should have...cant help myself...your friends and family will love them.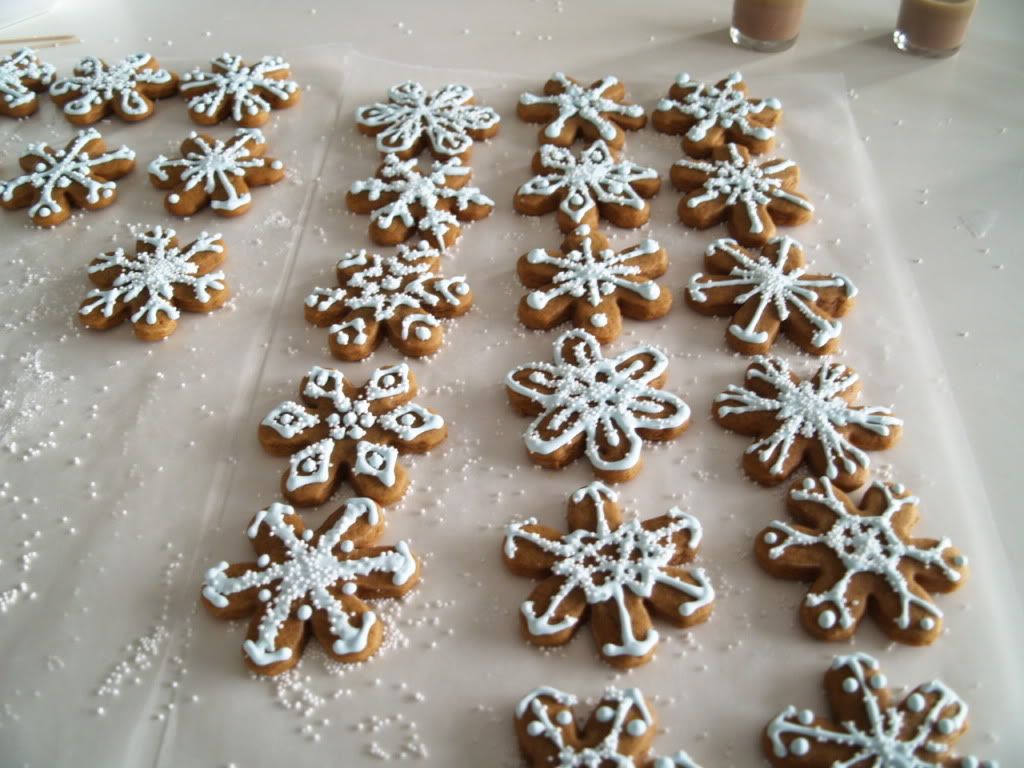 Want the recipe??? Here ya go!
1 cup Butter...yummm...room temp
1/2 cup packed Brown Sugar
1/2 cup granulated sugar
1 cup Dark Molasses
1 Egg
5 cups of flour
1 tsp of baking soda
1 tbs of ground ginger
1 tsp cinnamon
1/2 tsp ground cloves
1/2 tsp salt
In a mixer, cream butter until light yellow, add sugars and continue to cream until fluffy and the mixture is no longer gritty. Slowly add the molasses. Add egg and mix until well blended. Sift flour, baking soda, spices and salt. Gradually add to the butter mixture. Turn out onto a floured surface and work dough until a smooth mound. Divide into 4 parts, wrap with plastic wrap and refrigerate for at least 2 hours or up to 2 days.
Roll out dough to 1/4 thick, use cookie cutters of choice, I used 3" snowflakes. Line cookie sheet with parchment or lightly grease. Bake at 400 degrees for 6 minutes (3-5 in cookies...shorter time for smaller cookies) until the bottoms are lightly browned. Let sit for a few minutes before transferring to a cooling rack.
Once cool your can decorate to your hearts content. I like it somewhat simple and use Royal Icing...recipe follows.
3 tbs Meringue Powder (found at Michael's or Bakery supply stores)
6 tbs warm water
4 cups sifted powdered sugar
food coloring
Sift powdered sugar and meringue powder together, in a electric mixer set to low slowly add the water. You are looking for a thick pancake batter consistency, it should be pourable but not runny. Add colorant if desired, I did a super pale blue for a snowy look. I use the piping bags or bottles for better control. Decorate and eat!