I have decided that I need to get better about providing healthy yummy meals for my family. The key word being healthy. I am a butter lover...I cook with it daily. Well I've decided to give it up, hopefully that will be step one on the road to a more healthy lifestyle. I'll add other "healthy" tricks or changes as we go, but for now that will work...don't want to underwhelm my taste buds right off the bat!
I am also going to start posting my menu for the week on Monday's to share with everyone. Having something I have to do every week will keep me honest for sure. I am sure you will see the occasional slip up of the unhealthy but overall I am going to do my best to overhaul my go to fat filled flavor filled meals into something that is still flavor filled but less of that darn fat...end result hopefully being I am less fat filled! Ha Ha!
So here goes week one. It seems pretty boring, but once I get more recipes under my belt it will get better. I will share recipes I try and love later in the week.

I would love to get yummy recipes from readers so hook me up!
Monday-
Orange-Sesame Chicken Fingers with, Brown Rice, Broccoli and Salad

Tuesday-
Balsamic Glazed Chicken, Zucchini and Salad

Wednesday-
Healthy Beef Stroganoff, Whole Wheat Noodles and Salad

Thursday-
Mom's night off...left overs

Friday-
Classic Healthy Meatloaf, Cauliflower Mash and Salad

Saturday-
Chicken Cacciatore, Brown Rice and Salad

Sunday-
Grilled Chicken and Veggie Pizza and Salad
I plan on doing leftovers for lunches and for my night off...Thursday. I'm looking forward to Thursday!
I will include pictures with recipes later in the week. For now I will leave you with a yummy not so healthy meal we had to exit the butter love era in style.
Say hello to...

Pork Chops with Caramelized Onions and Root Beer Reduction
4 Med Onions
1/2 Stick Butter
2 Bottles Root Beer
1 tbl of each, Thyme, Paprika, Onion Powder, Garlic Powder, Salt & Freshly Ground Black Pepper
1 tsp Cayenne Pepper
4 Pork Chops (bone in or boneless)
About a hour before you want to eat dinner start the onions and root beer reduction.
Chop or slice 4 medium onions and saute in 1/2 stick of butter on med to low heat. This is going to take a hour if you do it correctly. You want to slowly sweat the onions until they caramelize and get amazingly sweet. Stir frequently to prevent over browning.

In a small sauce pan pour 2 bottles of good quality root beer and set on med to reduce, you may have to lower your heat once its set to boil so you don't have a mess on your hands. You want it to just be just at a simmer. No need to hover over the stove, just be sure to have your heat high enough to have a slow simmer but low enough not to boil. Reduce by at least half, you will have a wonderful syrup when done. If you like spice toss a sprinkle of Cayenne in.
Once onions are done, remove from pan and set aside. Mix spices and rub into pork chops. Seer in onion drippings until golden.
Pile caramelized onions on top of chop and drizzle with root beer reduction.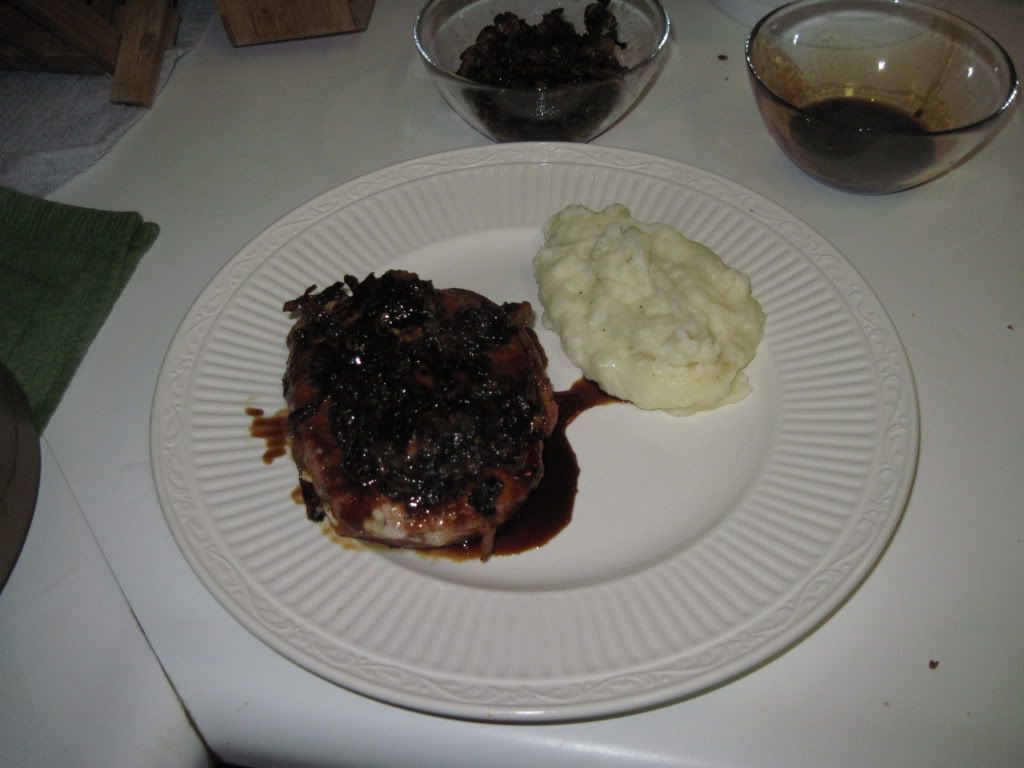 We had a salad on a separate plate...I swear!
I have served this with whipped potatoes or rice pilaf with a veggie or salad. Next week I'll work on making this less of a butter fest.